Wraith Squadron lost their commander today. He's gone over the horizon beyond where we can follow.
Author Aaron Allston passed away on February 27th. Allston, 53, was a prolific author, game designer, and speaker; frequently a guest and high point of any con related to science fiction, gaming, or Star Wars. And though it seems rude to merely harp on a single piece of his career; the galaxy far far away is where I met and knew him.
I never had the pleasure of actually meeting Allston, however, in my time working as an intern in the Star Wars books offices, and in meeting other authors, I heard enough to know the greatness of the man. And that whatever skill and aptitude he had as an author, it was far outweighed by who he was as a person. The tributes that have flooded the Internet since his passing only further confirm and enhance those anecdotes.
But, as an author, Allston was known to millions of people, and Star Wars fans in particular, through the books that he wrote. He authored thirteen books in the Star Wars universe, though judging by the comments of his fellow Expanded Universe (EU) authors, his reach and influence on Star Wars went well beyond simply the words that he penned.
It began when he took over writing the X-Wing series from friend and fellow EU author, Michael Stackpole. Four books had already been written, but according to Allston, Stackpole was then committed to write I,Jedi and couldn't work on all of the next four books in the series. Stackpole recommended Allston, and the rest is history. That first book became Wraith Squadron and was published in 1998.
After Wraith Squadron, Allston went on to pen four other books in the X-Wing series, included Mercy Kill in 2012, his last Star Wars book of any kind. With apologies and deference to Stackpole, who certainly established the X-wing series and Rogue Squadron as one of the hallmarks of the EU; when I think of X-wings, Tie Fighters and Star Wars space combat, Allston is the first name that comes to mind.
Since I only ever knew Allston through his work – the only place we "met" was in that space that exists in all of our minds as we read, the place where an author's vision melds with a reader's imagination. I've developed plenty of "relationships" with authors this way, but few are more beautiful than the one I developed with Allston.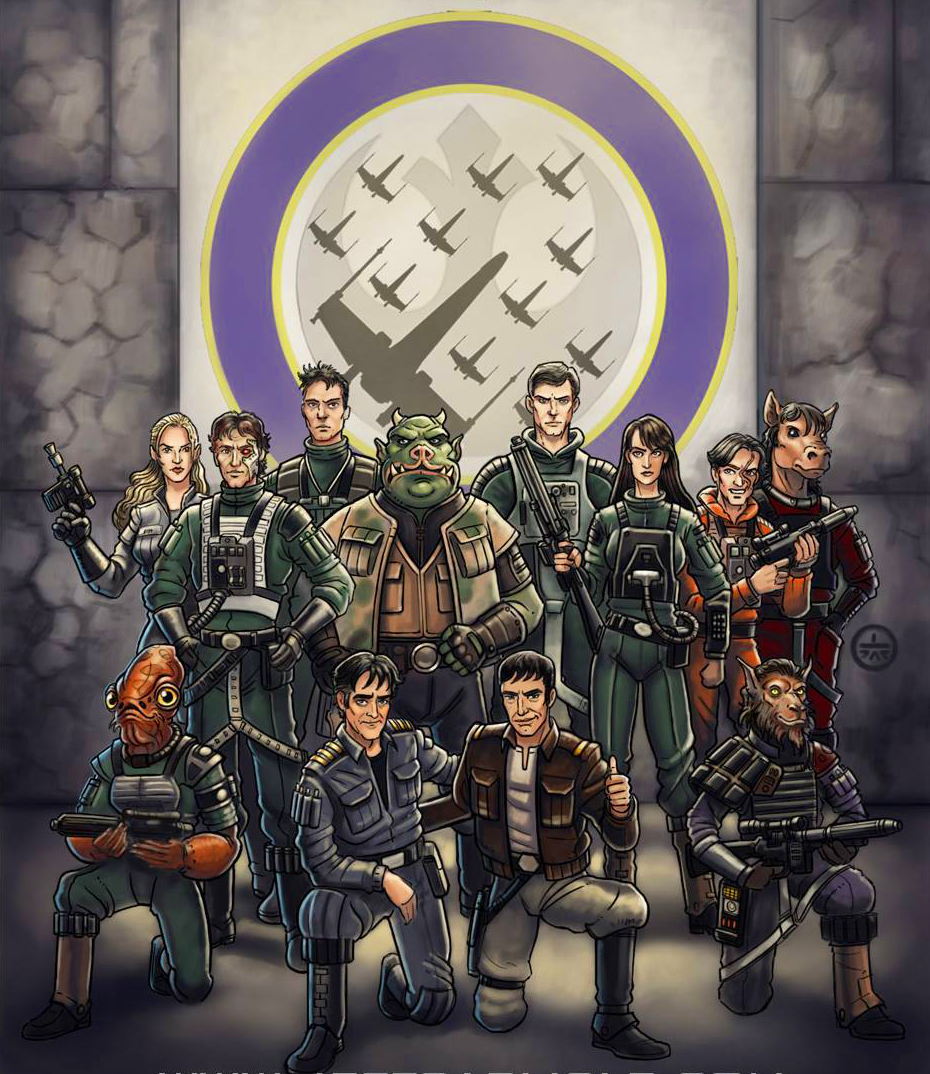 He took one of the simple brilliant ideas of Star Wars, the X-wing pilot, and turned it into something beyond an awesome action figure, or incredible action scene in a movie. It became Top Gun in space, only better. "Pretty, what are we going to blow up first?" — Wraith Squadron motto.
He helped make Wedge Antilles a bad ass, instead of simply window dressing "No, General. I'm not your subordinate. And what I'm coming dangerously close to is violence." But perhaps most of all, he made us care about a band of misfits
His brilliance wasn't confined to stories of X-Wings. Allston left his mark all over the EU, participated in both the New Jedi Order (NJO) and Legacy series and wrote some of the most fun exchanges between characters like Luke Skywalker and Mara Jade Skywalker. "Luke, I don't want to discourage your curiosity, but I have to remind you, if something goes wrong, this is an exceptionally embarassing way to die." Despite all that, it's the tales of Wedge, Piggy, the Wraiths and the Rogues that I'll remember him for best.
Reading back through those books reminded me very strongly of the fighter ace films of Hollywood's hey day. Of the black and white war movies my grandfather used to show me. It never mattered exactly what the plot was, because you connected to the characters and scenes in a way that was essentially human. You would have followed them anywhere. Lord, just don't let the book end. Keep the engines running, and the s-foils in attack position. I just want to spend a little more time with these people.
That's how Allston's writing and handling of the Wraiths and members of Rogue Squadron made me feel. That I was reading about essentially real people in an otherwise unreal situation. A pretty impressive feat considering many of them weren't even human.  Allston was writing it "straight", for lack of a better term. It didn't matter that the adventures took place in space, or that one of them was essentially a talking pig.
The care and diligence he put into developing those characters, and their relationships in those books was one of the things that helped move Star Wars as a whole into being something that means everything to me, in the way that only things which should mean nothing can.
And so here, at the moment when we're feeling his lost the most, it's the time when I can't help, but feel joy and appreciation at what he left us. He helped keep the Universe alive, he pushed it forward, and enriched it.
Thank you Aaron.
Image of Wraith Squadron by Jeff Carlisle